The model is to become a model for further fiber-optic expansion in Bavaria. In Haimhausen, Deutsche
Glasfaser
initially set up a fiber-optic
network
on its own, the gaps will be closed with subsidies in a second step.
In Bavaria, private-sector fiber-optic expansion and state support from the Bavarian state government go hand in hand in order to open up places across the board with fiber-optics. For example, the fiber-optic specialist Deutsche Glasfaser initially developed a fiber-optic network on its own in Haimhausen in the Dachau district. In a second step, the network gaps in the outlying areas that are not economically accessible would be closed with state subsidies.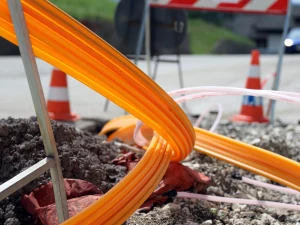 Model for further fiber-optic expansion in Bavaria
This means that an area-wide FTTH fiber optic network can be set up in the place. Haimhausen could act as a model for the expansion of fiber optics in other municipalities in Bavaria. Civil engineering work has already started in the community. The households in the assisted area are to be gradually connected to the fiber-optic network.
"Where an independent network expansion is not possible, our Bavarian gigabit subsidy takes effect and, together with the municipalities and business, ensures area coverage of high-speed Internet. In every municipality, fiber optics has already arrived. But we are not satisfied with that. Our ambitious goal for the future in Bavaria: Gigabit into every house ", says Albert Füracker, Bavarian State Minister for Finance and Home.